ベータ
This Twilio product is currently available as a beta release. Some features are not yet implemented and others may be changed before the product is declared as Generally Available. Beta products are not covered by a Twilio SLA. Learn more about beta product support.
Twilio Functions is a serverless environment which empowers developers to quickly and easily create production-grade, event-driven Twilio applications that scale with their businesses.
Functionsの主な機能:
Secure By Default - Automatically ensure that only Twilio requests can execute your function
Serverless - Offload your operational burden to Twilio and skip maintaining any infrastructure
Autoscaling - Automatically add capacity to meet the unique demands of your application
Native Twilio Integration - Use Functions as a first class member of the Twilio console with a preinitialized Twilio REST Helper Library built in
Familiar - Work in an environment powered by Node 10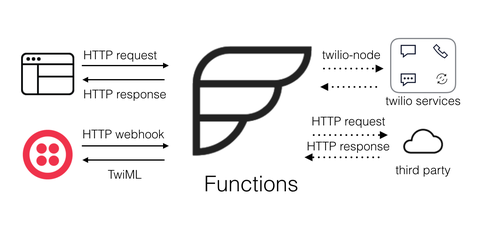 Twilio Functions replaces your need to find hosting or stand up a server to serve TwiML or any other HTTP based responses. With Functions, you no longer have to worry about maintaining or scaling web infrastructure - it's all managed seamlessly by Twilio, scaling with your use case.
典型的なユースケースとしては音声通話の操作、モバイルSDK用のトークンの生成、あるいは受信SMSの様なイベントに対するレスポンスでTwilio REST APIの呼び出しなどが含まれます。
Visit our Programmable SMS Quickstart or Programmable Voice Quickstart for a step-by-step guide of getting your first application to production.
Functionsについてビジュアルにご覧いただくには、こちらのビデオをご覧ください:
ご意見を送信したり実装の詳細について議論を行うには、Twilio社のGoogle Groupに参加してコメントをお寄せください!
ヘルプが必要ですか?
誰しもが一度は考える「コーディングって難しい」。そんな時は、お問い合わせフォームから質問してください。 または、Stack Overflow でTwilioタグのついた情報から欲しいものを探してみましょう。