Twilio Verify Phone Verification Python Django Quickstart
Version 2 of the Verify API is now available! V2 has an improved developer experience and new features. Some of the features of the V2 API include:
Twilio helper libraries in JavaScript, Java, C#, Python, Ruby, and PHP
PSD2 Secure Customer Authentication Support
You are currently viewing Version 1. V1 of the API will be maintained for the time being, but any new features and development will be on Version 2. We encourage you to do any new development with API V2. Check out the Python Verify V2 Quickstart for more information.
電話番号検証は、登録フローにおいてユーザーが所持していると主張しているデバイスが本当に彼らの所有物であるかどうかを検証する、重要かつ信頼性の高いステップです。 Twilio Verifyをアプリケーションに追加して新規アカウントを検証すると、電話番号の不正な登録を劇的に減少させ、将来のユーザーの電話番号はすでに悪意ある第三者によって登録されている、といったトラブルから保護することができます。
This quickstart guides you through creating a Python, Django app that requires a Phone Verification step to create an account. Two channels of Phone Verification are demoed: SMS and Voice.
デモアプリケーションにTwilio Verifyを追加して、悪者どもを寄せ付けないようにする準備はできましたか?
無料のTwilioトライアルにサインアップするか、すでにお持ちのTwilioアカウントにサインインしてください。
Once logged in, visit the Verify Console. Click on the red 'Create New Aplication' (or big red plus ('+') if you already created one) to create a new Verify application then name it something memorable.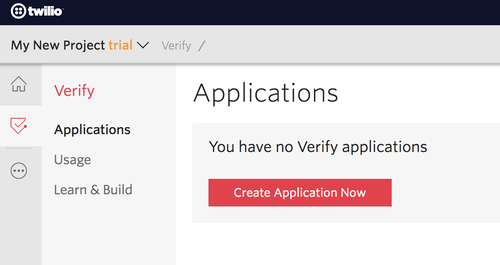 次にTwilioは、設定ページにリダイレクトします:
目玉アイコンをクリックして、Production APIキーを表示させ、安全な場所にコピーしておきます。 下記のアプリケーションのセットアップのステップで、このAPIキーを使用します。
Start by cloning our Django repository. Enter the directory and use `pip` to install all of our dependencies:
pip install -r requirements.txt

次のファイルを開きます .env.example
Change ACCOUNT_SECURITY_API_KEY to the API Key from the above step
ここで、ファイルを.envという名前で保存します
Run the app migrations to get everything up to date:
これで必要な設定は以上です。
さぁ、下記のコマンドでアプリケーションを実行しましょう:
APIキーが正しく入力されていれば、アプリケーションが起動している旨のメッセージが表示されます。
Keeping your phone at your side, visit the Phone Verification page of the demo at http://localhost:8000/verification/
Country Code(国コード)およびPhone Number(電話番号)を入力し、「SMS」または「CALL」(音声通話)どちらのチャンネルに検証をリクエストするか選択します。 最後に、青い「Request Verification(検証をリクエスト)」ボタンをクリックして待ちます。
検証トークンを読み上げる音声通話がかかってくるか、トークンの記載されたSMSが受信されます。 音声通話をリクエストしていた場合、追加のセキュリティー機構として、(電話機のプッシュボタンで番号使用する)やり取りが発生する場合があります。
いずれの方法でも、パスコードがリクエストされます。 トークンを検証入力フォームに入力し、「Verify Phone(電話番号を検証)」をクリックします。
これで、デモアプリケーションはTwilioの電話番号検証で保護されました! ログアウトして他のチャンネルもお試しいただけます。
Your demo app is now keeping fraudulent users from registering with your business and polluting your database. Next, check out all of the variables and options available to you in the Phone Verification API Reference. Also, to protect your customers in an ongoing manner (with this same codebase) try the Python Django Authy Two-Factor Authentication Quickstart.
After that, visit the Docs for more Account Security demos and tutorials and web applications using all of Twilio's products.
ヘルプが必要ですか?
誰しもが一度は考える「コーディングって難しい」。そんな時は、お問い合わせフォームから質問してください。 または、Stack Overflow でTwilioタグのついた情報から欲しいものを探してみましょう。