Flex Insights KPI Dashboards
The minimum window width to edit dashboards is 1460px. If your browser window is narrower the edit button will not be available.
Flex Insights KPI dashboards contain Key Performance Indicators (KPIs) and insights from the Analyze tab.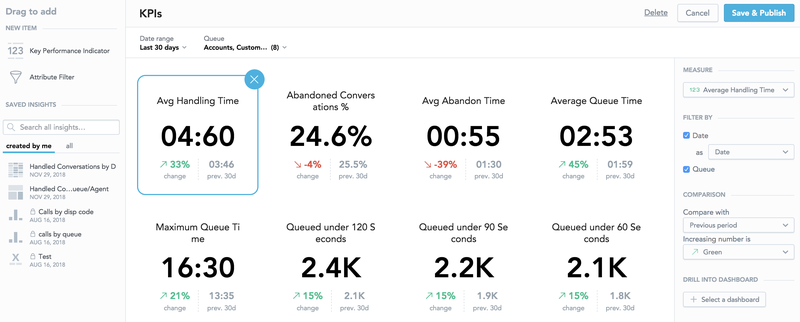 With KPI dashboards, you can, for example:
Track how your KPI changes over time and compare it to previous periods.
Set alerts and get notified when KPIs reach a threshold.
Link KPIs to other dashboards.
Have important insights next to relevant KPIs to have a better overview of your business processes.
You can add as many KPI dashboards to your project as you want.
For details about KPI dashboards, see the following topics:
ヘルプが必要ですか?
We all do sometimes; code is hard. Get help now from our support team, or lean on the wisdom of the crowd by visiting Twilio's Community Forums or browsing the Twilio tag on Stack Overflow.