Twilio Media Streams makes some really amazing things possible. Want to learn how to use it? Watch this video!
Twilio is all about powering communication and doing it conveniently and fast in any language.
Read more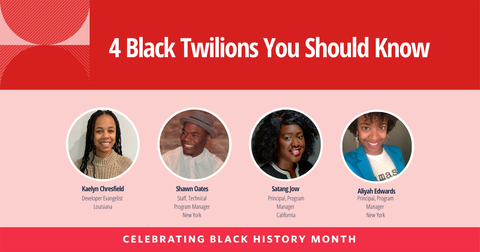 In observance of Black History Month, the Black Twilions Employee Resource Group organized programs to commemorate important events and celebrate people of color in …
Read more
Sign up for the Ahoy Newsletter!
You are opting in to receive the Ahoy! digest and additional Twilio content and updates. You may unsubscribe at any time using the unsubscribe link in the digest email. See our privacy policy for more information.
---
---
Twilio Releases: Q2 2022 (APAC Session)
Join us for our Q2 Release Webinar, on June 29th to learn how you can stay up to date, and build and deploy faster with Twilio!
June 29, 2022
11:30am - 12:15pm GMT+08
Building Your Story & Resume for Mission-Driven Companies
VetsinTech is partnering with Twilio to provide vital resources to the veteran community to close this employment gap. We are offering this free webinar to provide you with key skills, which will help you stand out while applying to and interviewing.
July 7, 2022
4:00pm - 5:00pm PDT
Discovering the Technical Side of Sales
Does building relationships, learning new technology, and developing creative solutions sound intriguing to you? If yes, then RSVP to this event where you'll learn more about how these three interests intersect in the field of Solutions Engineering.
---
---